SUMMARY
Although the 2022 Kia Sportage is starting to age with its performance dynamics, it still offers a great package when it comes to both design stylings and practicality. Offered in 2 engine options, drivers can choose between a fuel-efficient family car or one that can make the daily drive a bit more exciting. This review on the 2022 Kia Sportage will go through the various specs and features that make up Kia's crossover SUV.
LATEST
Some changes have been made to the Sportage's lineup, such as the Nightfall Edition trim taking the spot of the former S trim level. The base model, the LX, also has a new "Value Edition" package that adds in features that can be seen on the higher tier trim levels. The Sportage EX adds in a panoramic sunroof, as well as a technology package that comes new features, navigation software, and even 10 years of free updates which it shares with the SX Turbo.
ESTIMATED PRICE
The price of the 2022 Kia Sportage differs among the 4 available trim levels. Below is a table with the different costs that each Trim level has:
| | |
| --- | --- |
| Trim (Drivetrain) | MSRP* |
| 2022 Kia Sportage LX | $24,090* |
| 2022 Kia Sportage Nightfall Edition | $28,090* |
| 2022 Kia Sportage EX | $28,390* |
| 2022 Kia Sportage SX Turbo | $33,750* |
Kia offers several deals for financing your new Kia Sportage. Several options for leasing out a new 2022 Kia Sportage, but may change prices depending on your location within the US. Make sure to check their website for more information on the local deals that you might be able to make use of.
MACHINE PERFORMANCE
The standard engine for the LX, Nightfall, and EX trims is a 2.4-Liter Inline 4-Cylinder engine. It's capable of 181 units of horsepower at 6,000 rpm and a torque output of 175 pounds-feet at 4,000 rpm. Those looking for a bit more power should look into the SX Turbo's engine option – A 2.0-Liter Turbocharged Inline 4-Cylinder. It's capable of a power output of 240 horsepower for the FWD and 237 horsepower for the AWD models. It also produces a torque output of 260 pounds-feet. Now, take note that these are independent tests as Kia themselves have not released any official details on the sprint times of the various trims of the 2022 Sportage.
FUEL EFFICIENT & ACTUAL MPG
This crossover is quite fuel efficient when compared to those of its class, scoring impressive EPA ratings on both engine options. Below are the respective EPA ratings for all of the available trim levels:
| | | | |
| --- | --- | --- | --- |
| Trim Mileage Estimates | City/mpg | Highway/mpg | Combined/mpg |
| 2022 Kia Sportage LX FWD | 23 | 30 | 26 |
| 2022 Kia Sportage LX AWD | 22 | 26 | 23 |
| 2022 Kia Sportage Nightfall Edition FWD | 23 | 30 | 26 |
| 2022 Kia Sportage Nightfall Edition AWD | 22 | 26 | 23 |
| 2022 Kia Sportage EX FWD | 23 | 30 | 26 |
| 2022 Kia Sportage EX AWD | 22 | 26 | 23 |
| 2022 Kia Sportage SX Turbo FWD | 20 | 28 | 23 |
| 2022 Kia Sportage SX Turbo AWD | 19 | 24 | 21 |
A common trend we can see is that the models sporting the 2.4-Liter Inline 4-Cylinder tend to have a greater fuel efficiency rating, with the LX FWD model being the best in that category. As we move down the table, we see that increasing performance leads to a decrease in the car's fuel efficiency. This can be seen most especially at the SX Turbo trim level, where these models make use of the more powerful 2.0-Liter Turbocharged. For those looking to squeeze an extra bit more fuel economy with their car, we suggest going for the Front-wheel drive models of the Kia Sportage.
INTERIOR, SOLACE & BAGGAGE
The interior cabin of the 2022 Kia Sportage is spacious enough to offer its passengers enough room. Various materials such as soft-touch plastics compose the various surfaces of the cabin. The front seats come standard with a woven cloth seat trim but can be upgraded to a Tricot Cloth Trim or a Leather Seat trim. The driver's seat on the base LX is manually adjustable, but higher trim levels allow it to be power adjustable. It even comes with Lumbar support that is also power adjustable. 5 passengers can fit inside the Sportage at max capacity, but 4 people is the max if you're going for a comfortable ride. Heating and Ventilation for the front seats come as an option, as well as heating for the steering wheel. The Sportage has a cargo volume of 30.7 cubic feet with the rear seats deployed and 60.1 cubic feet with the rear seats folded up.
TECHNOLOGY
The infotainment features on the Kia Sportage are enough to keep passengers occupied all the way to the end of your journey. An 8-inch touchscreen comes standard to the 4 models, with options to include SiriusXM's satellite radio and voice command recognition. All models come integrated with Android Auto and Apple CarPlay connectivity. A variety of USB ports can be used for charging, as well as 12-volt power outlets. Only the SX Turbo comes standard with Wireless charging capabilities, with it being an option for the Nighfall and EX trims. The audio system on the Kia Sportage is a standard 6-speaker Audio System. The EX and SX Turbo's audio system can be upgraded to an 8-speaker setup that's sourced from Harman/Kardon.
SAFETY
The NHTSA has given the 2022 Kia Sportage a five-star rating for Overall Safety. It comes with a wide variety of driver-assistance features that come standard, as well as some that are optional. Some of the standard features include a forward collision monitoring and warning system, automated emergency braking, lane-departure warning, and a lane-keep assist. Optional features include blind spot monitoring systems and a rear cross-traffic alert system.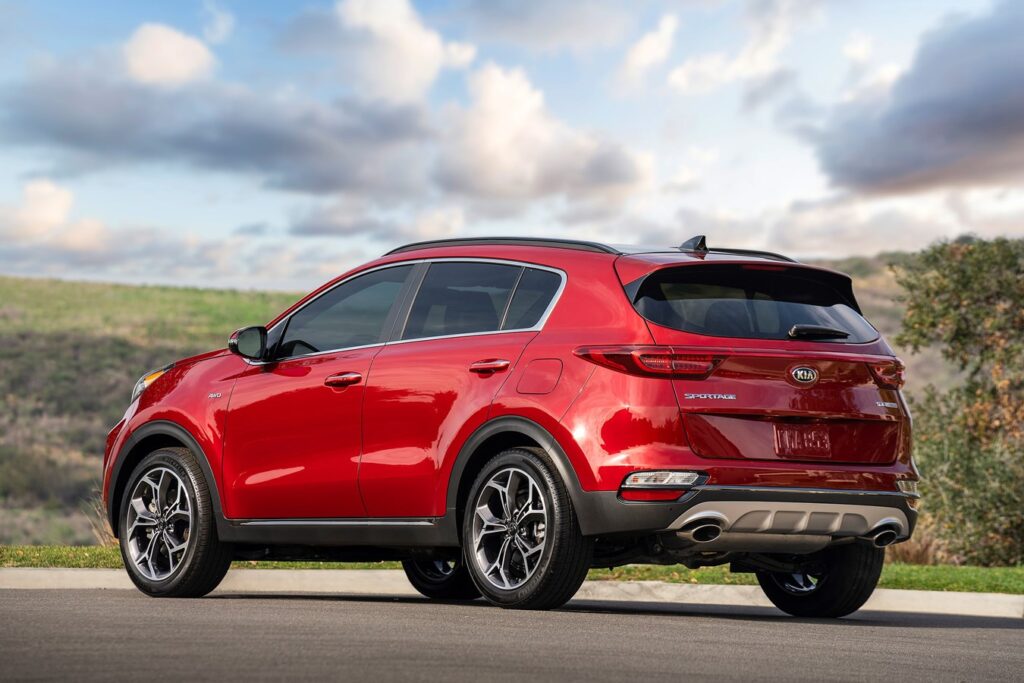 WARRANTY
Kia offers quite the extensive warranty plan, besting the competition in some places. Their Limited warrant plan is covered for 5 years or for the first 60,000 miles driven, whichever comes first. The Powertrain warranty is one of the best for its class, lasting for 10 years or for the first 100,000 miles driven. The company also offers an anti-perforation warranty which spans for 5 years or the first 100,000 miles driven. Lastly, they also offer a roadside assistance plan that is valid for the first 5 years or 60,000 miles.