SUMMARY
The Lexus LX Series has been its Flagship Luxury SUV, being more than just an upscaled version of the SUVs it competes against. The newest iteration of the LX 600 comes in after a grand redesign, featuring changes to the interior and a new twin-turbo V6 engine. The standard package still comes with four-wheel drive, along with various customizable options for off-roading and creature comforts.
LATEST
The 2022 LX 600 is receiving a whole new redesign from scratch, replacing the previous V8 engine with a capable 3.5-Liter Turbocharged V6 engine. It has also gone through some weight reduction, with Lexus confirming that it is now 441 lbs lighter than the previous model. Its body rigidity has also been increased as well. The all-new cabin promises both comfort and ease in usability, together with Lexus' first dual display setup for cabin controls.
ESTIMATED PRICE
Lexus has not yet released any information on the LX's pricing, nor has it released info on the features that come standard or optional. However, we do know that the LX 600 will be coming in its typical grades: Standard, Premium, and Luxury. Lexus has announced that the F Sport and Ultra Luxury grades will be offered as well, being a first for the LX series.
MACHINE PERFORMANCE
The Lexus LX 600 is outfitted with a new 3.5-Liter Twin-Turbo V6 gasoline engine, smaller than the previous V8. It boasts an increased output of 409 horsepower, along with increased torque level of 479 pounds-feet. It is also able to maintain its maximum torque up to a range of about 3,600 rpm. This makes handling much easier during times of low-speed usage, whether it be on-road or off-road. The engine's power is routed through a "Direct Shift" 10-speed Automatic transmission, achieving better marks on both its performance and fuel economy. It also handles like a dream with its Electronic Power Steering feature, using motor and reduction gear to let drivers adjust their course to a finer degree. It even feels light to steer during low-speed drives in both urban and off-road settings.
The new GA-F platform helps in reducing the center of gravity and weight of the LX 600, also adding to its rigidity and comfort. This helps the new LX to have a greater off-road and on-road performance. The Adaptive Variable Suspension provides a greater amount of grip and traction on the road. It goes in tandem with its Active Height Control, adjusting the ride height based on the current driving conditions. Settings for the vehicle height include Normal, Hi1, and Hi2 modes. A low setting is also present for when passengers need to enter or exit the SUV.
The LX 600 will ride on either 18 or 20-inch wheels. For the first time, it will also come with 22-inch forged aluminum wheels which are the largest ones currently fielded by Lexus. The weight on all of these wheel models has been reduced as well. The F Sport comes with a Limited Slip Differential from Torsen, ensuring better performance for the rear tires when accelerating during a turn.
The Multi-Terrain Select allows drivers options for various off-road environments. These six modes include: Auto, Dirt, Sand, Mud, Deep Snow, and Rock. These modes attempt to match the driving performance to the current road conditions, depending on the mode selected. Auto mode differs in that it uses sensors to read road conditions and optimizes various settings for ideal performance on the fly. Other features include Crawl Control, which allows tighter control during low-speed. Downhill Assist Control helps in optimizing hydraulic pressure on the breaks for a stable descent down slopes. Lastly, the Multi-Terrain Monitor helps drives have a 360° view of the vehicle's surroundings.
FUEL EFFICIENT & ACTUAL MPG
Currently, there are no EPA ratings for the Lexus LX 600 and its different grade levels. We'll update this section as soon as more details emerge.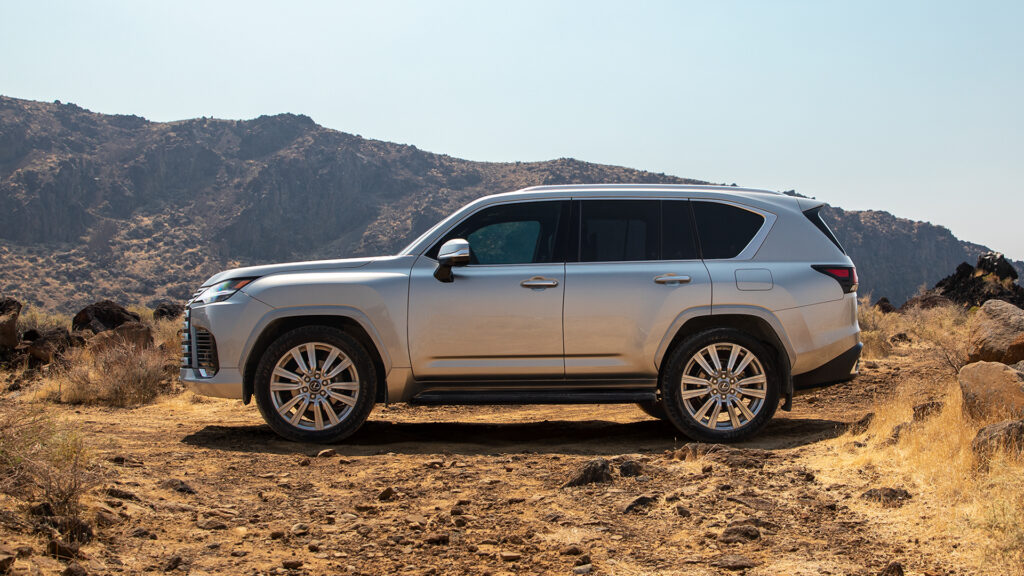 INTERIOR, SOLACE & BAGGAGE
The interior of the new LX 600 combines both functionality and a striking stylistic theme. It includes much higher build quality, sporting a number of leather elements. The dashboard comes leather-wrapped, accentuated by a wood trim and various smoked-chrome elements that are on multiple surfaces of the vehicle. The LX 600 can hold 5 to 7 passengers, depending on whether the buyer goes for the new power fold-flat third row seating. The Ultra Luxury differs in this regard as it comes with 4 captain's chairs, with the rear seats having massage features and a reclining option of up to 48°. This model emphasizes comfort with additional features such as reading lights, a footrest for rear passengers, and cushions that envelop the passenger's body.
TECHNOLOGY
The LX 600 comes with the Lexus Interface multimedia system, along with a 12.3-inch upper touchscreen and 7-inch lower touchscreen. The dual screen setup is unique to the LX, allowing drivers to access navigation, media, phone controls, and the various vehicle and cabin control settings available. It is expected to come integrated with Android Auto and Apple CarPlay. The screens also come with a new feature called the Human Machine Interface, which enhances interaction and accessibility through sight, touch and voice gestures.
It also comes with a new Lexus Interface User Profile feature, allowing drivers to personalize their experience and having it be accessible to other vehicles with the Lexus Interface integrated within. It also comes with a native navigation system, integrated with Google POI data, that is much faster in updating and much more accurate when it comes to mapping out directions.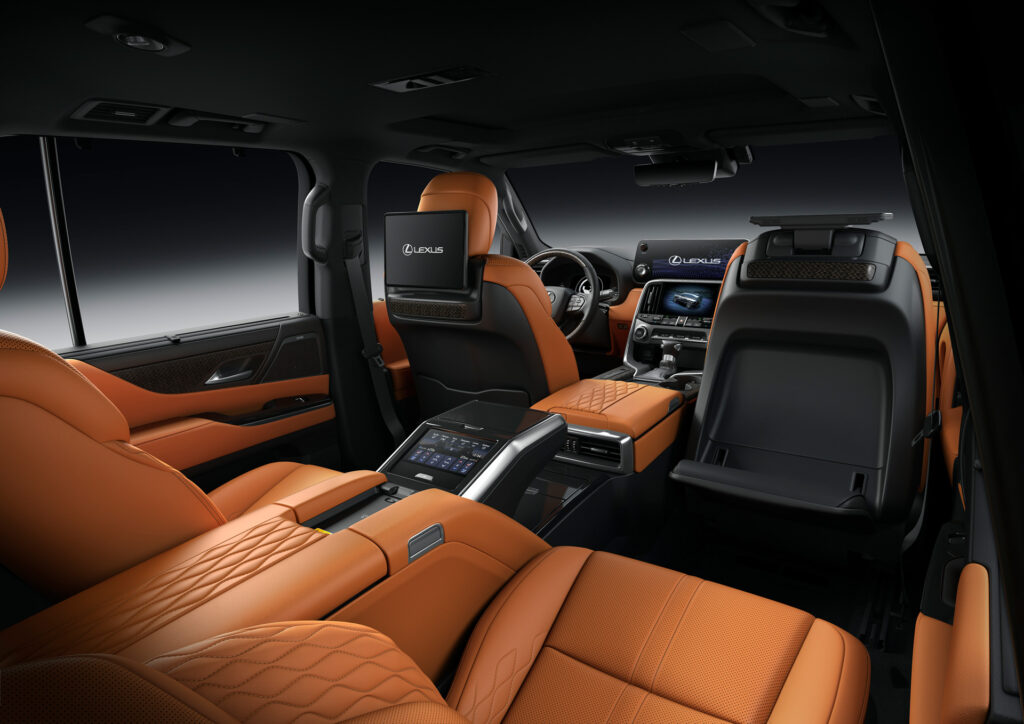 SAFETY
The LX comes standard with many driver-assistance features and technologies. These include automated emergency braking, an adaptive cruise control, lane-keeping assistance, lane-departure warning, pedestrian and cyclist detection, and the Lexus Safety System+ 2.5. This safety suite also includes Intelligent High Beams, Road Sign Assist, and integration with the dual-screen multi-information display.
WARRANTY
No warranty plans have been announced for the LX 600 and its respective grade levels. We'll update this section as soon as more details emerge.