SUMMARY
The 2022 Rivian R1S is the second planned release from Rivian, an American Startup that's aiming to take the EV market by storm. This new EV-SUV is one of two competitors in its class, expected to be cheaper than its rivals. It is sharing some similarities with the other vehicle that Rivian is releasing alongside it, but the R1S differs in that it's meant more for the families and drivers that want both practicality and utility. With a whole host of new technologies and features, the R1S is looking to be quite the vehicle to look out for in the coming 2022 season.
LATEST
The R1S is just one of the new vehicles that Rivian is planning to release. The brand will be offering a Launch Edtion model and will be sold directly to the customers, with plans on service centers and stores being built in the near future.
ESTIMATED PRICE
The 2022 Rivian R1S' price is different for the three different models that are planned: Launch Edition, The Explore Package, and the Adventure Package. The Launch Edition of the R1S is only available through reservations and is expected to come at a starting price of $75,500*. The Explore Package will be the standard model that customers can avail of, with an asking price of $70,000*. Lastly, the 2022 Rivian R1S' Adventure Package costs about $75,500* and is the top-tier model of the R1S. All deliveries for the R1S will be starting at January 2022.
MACHINE PERFORMANCE
The 2022 Rivan R1S' specs are quite impressive coming from a startup company, being carefully designed for maximum range and performance. The electric powertrain is composed of a quad-motor setup, utilizing two dual-motor drive systems to deliver much more control to the driver. The engines independently adjust both torque and power, able to reduce the amount of oversteer and understeer that's experienced when taking sharper turns and corners. It also allows for a lot more maneuverability in off-road settings. The front axle dual-motor system creates 415 horsepower and has a torque output of 413 pounds-feet. The rear axle system produces a higher output, contributing 420 horsepower and 495 pounds-feet of torque to the vehicle. These both aid the R1S in navigating through a whole host of on-road situations and off-road terrains. It also boasts an acceleration time of 3.0 seconds to reach 60 mph from a standstill. It also has a variety of other improvements that aid in its performance, such as an independent air suspension system that gives it 6 inches of vertical adjustment room. This is manipulated by the SUV's six different drive modes: All Purpose, Sport, Off-Road Auto, Off-Road Rock Crawl, Off-Road Rally, Off-Road Drift, Conserve, and Tow Mode.
The 2022 Rivian R1S dimensions, according to their site, are as follows:
Max Height: 77.3 inches
Length: 200.8 inches
Wheelbase: 121.1 inches; Width: 81.8 inches
BATTERY LIFE
The battery pack of the R1S is designed for both hot and cold climates, capable of an electric driving range of approximately 316 miles. The only available pack on their site is the Large Pack, which is a 135-kWh battery pack. It is expected that the larger 180-kWh battery pack will be made an option in the near future, with an expected electric driving range nearing 400 miles.
FUEL EFFICIENT & ACTUAL MPG
EPA estimates for the R1S put it at the middle of the pack in the EV-SUV market, with a rating of 73 MPGe/City, 65 MPGe/Highway, and 69 MPGe/Combined. More information on the fuel efficiency and economy of the R1S is available at the EPA's official site, as well as other online sources.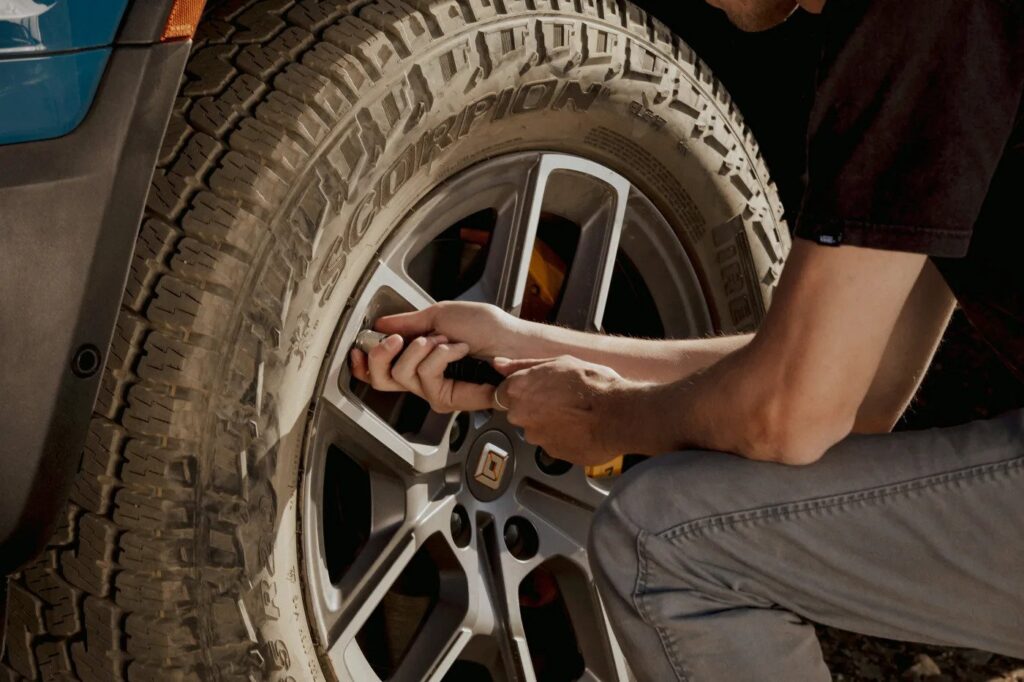 INTERIOR, SOLACE & BAGGAGE
TheR1S has different options when it comes to passenger capacity, coming with a 5-seater and 7-seater option. The Explore package boasts an interior that is much sportier than the Adventure, complete with vegan leather seating that comes with a matte black finish and performance stitching. It also available in two color schemes: Black Mountain and Ocean Coast.
The Adventure package has a few differences from the baseline model, coming with a much more refined atmosphere. It comes with perforated seats manufactured from vegan leather, complete with patterned stitching motifs. The cabin is accented with Compass Yellow elements as well as natural-grained ash wood stylings. It offers the same color schemes as the Explore, with the addition of Forest Edge.
A panoramic roof is available for all model, with a removable roof being planned for the 2022 Rivian R1S' interior options by mid-2022. It also hosts an audio system that makes use of Meridian speakers that are strategically placed inside the cabin. A whole set of off-road accessories are available from Rivian, improving the outdoors experience for all drivers. The cabin storage made available on the R1S is a spacious 104 cubic feet, with all this shared by the front trunk, rear cargo area, rear storage bin, center console, and under-seat compartments.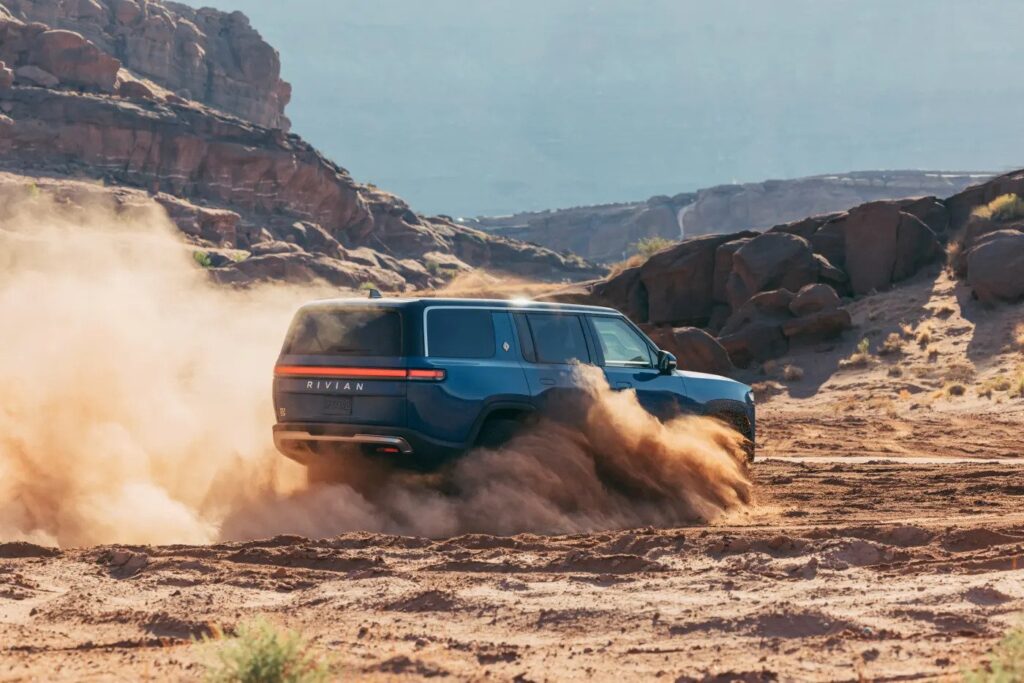 TECHNOLOGY
The infotainment system on the R1S makes use of a horizontally mounted display for UI navigation. It is expected to carry Bluetooth capabilities, LTE and Wi-Fi connectivity, wireless charging, a set of USB ports, 12- and 120-volt outlets, and integration with Amazon Alexa for voice commands. It will also be featuring over-the-air updates to improve the system as it goes along.
SAFETY
Rivian's Driver+ safety suite gives the R1S many driver-assistance functions. These features include Highway and Lane Change Assist, an Adaptive Cruise Control, Forward Collision Warnings, Automated Emergency Braking systems, and other features that are standard to the R1S in all models. It is notable that Rivian aims for this safety suite to have hands-free interactions, making it easier to navigate while driving.
WARRANTY
Rivian is offering quite a substantial warranty package, with bumper-to-bumper coverage which lasts for five years or the first 60,000 miles driven. The Powertrain warranty is also quite extensive, spanning a whole eight years or for the first 175,000 miles driven. The company does not offer any plans for complimentary scheduled maintenance.