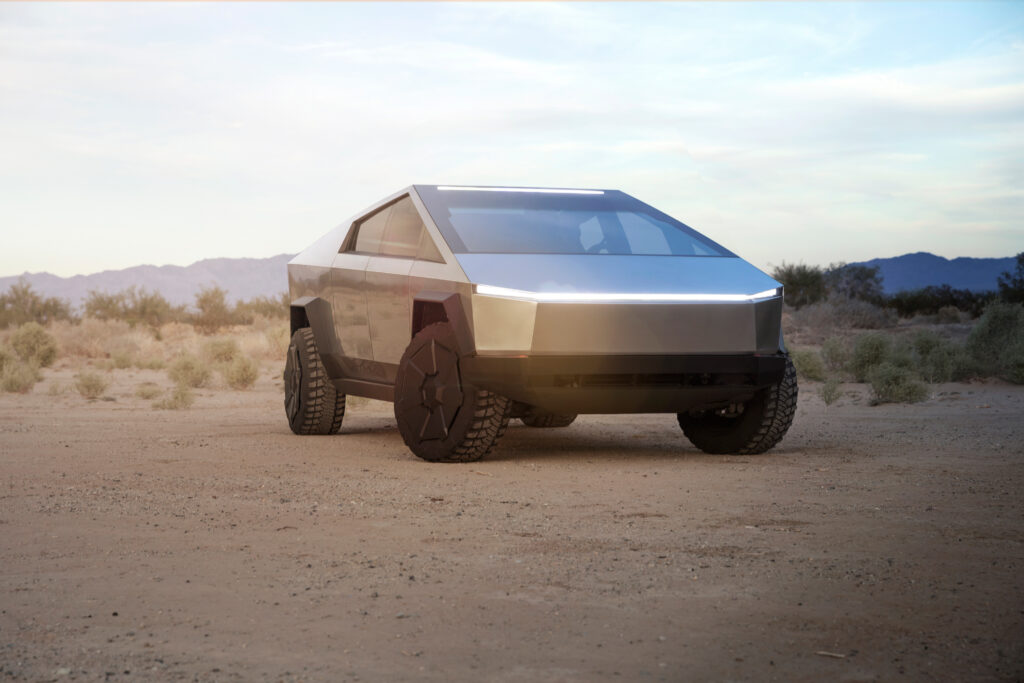 SUMMARY
The 2023 Tesla Cybertruck is one of the most anticipated releases of the company, being unveiled as a widely unique design. It will be coming in 3 different motor setups, with an expected driving range that rivals that of the current roster of EV pickup trucks. The question now is whether or not Tesla can meet their promise of releasing for the 2023 model year. Will they be able to corner the market with this striking new take on a classic design?
LATEST
This is an entirely new EV pickup truck from Tesla, posing itself as a strong competitor in the EV market. The Tesla Cybertruck's Release Date for 2023 is still yet to be announced.
ESTIMATED PRICE
Tesla's site no longer lists the Tesla Cybertruck's price for 2023. However, we do know that it used to be slated for a starting price of $39,900 for a single motor rear-wheel drive version. There is also a dual motor version that comes in all-wheel drive, going for a price of $49,900. A three-motor setup is also available and comes as well in an all-wheel system, going for a price around $69,900. The Cybertruck can be reserved on their online site for a refundable $100.
MACHINE PERFORMANCE
There are a lot of things being flaunted about when it comes to the Cybertruck and its on-road and off-road performance. It is available in three different varieties: single, dual, and tri-motor models. The single motor is the only offering that is available in rear-wheel drive, with the dual and tri-motor versions having all-wheel drive. The Tesla Cybertruck's range for this 2023 model year depends on which motor setup is fitted onto the vehicle. The single-motor model is expected to have a power output of around 400 and 500 horsepower. It is also rumored to be capable of at least 250 miles of electric range. Accelerating from 0 to 60 mph on this model takes 6.5 seconds.
The dual-motor version, being the midline model of the series, is suspected to have a total power output of around 690 horsepower and a torque level of 824 pounds-feet. It is also known to have about 300 miles of electric range and an accelerating time of 4.5 seconds to reach 60 mph from a standstill.
Last comes the tri-motor Cybertruck, being the highest tier model available from Tesla. Being the chart-topper of these trucks, it boasts a power output of 800 horsepower and a torque level of about 1000 pounds-feet. It will also have a top speed of 130 mph and have a range of at least 500 miles, able to go from 0 to 60 mph in only 2.9 seconds.
TOWING CAPACITY
The Tesla Cybertruck's towing capacity should line up with other models within the 2023 production year. The single-motor setup is expected to be able to tow an amount of 7,500 pounds. The dual-motor version follows, with a towing capacity of about 10,000 pounds. Lastly, the top-tier tri-motor setup tops all of these with a towing capacity of about 14,000 pounds. No information has been given on possible axle ratio options for the Cybertruck.
BATTERY LIFE
No official information has been given on the 2023 Tesla Cybertruck's battery pack, but there are already speculations on what could be fitted onto it. The lead thought is that Tesla will use their 4680-battery cell setup, capable of a 16% increase in driving range and a massive improvement over the power output when compared to the battery packs of standard EVs. The electrical driving range of the Cybertruck ranges from 250 miles for the base model and 500 miles for the tri-motor variant.
FUEL EFFICIENT & ACTUAL MPG
The 2023 Tesla Cybertruck has not yet been rated by the EPA. When there is available data on the Cybertruck, we'll make sure to keep you posted on it.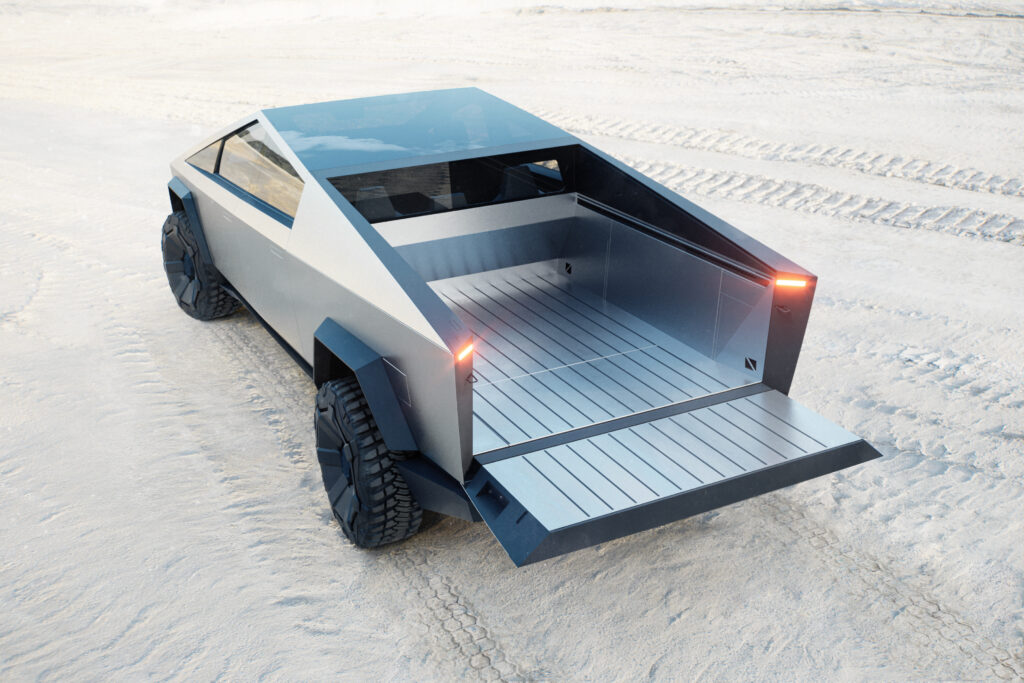 INTERIOR, SOLACE & BAGGAGE
The concept photos of the Tesla Cybertruck's interior have us hoping for the 2023 model release. It is known that the two rows of seating offer enough for about six adults, with the front center seat being foldable to be used as an armrest. The steering wheel is more similar to that of an airplane's yoke, quite far away from the looks of a traditional steering wheel. A screen is mounted onto a dashboard that is made to look like it was made of marble. No switches nor any form of physical controls are visible in the few shots that Tesla has released. It is also rumored to have a rear-view mirror display that utilizes an HD camera that is mounted on the tailgate. A glass roof is also present that's stretched over the cabin, providing clear visibility outwards. It is expected that the Cybertruck will have a payload capacity of up to 3,500 pounds, according to Tesla's website. It also has 100 cubic feet of exterior storage that's located along the frunk, under-bed, and sail-pillars.
TECHNOLOGY
Details on the infotainment and cabin technologies mounted onto the Cybertruck are still shrouded in mystery, with no official announcements given as of this date. The only confirmed detail is that all three models of the Cybertruck is expected to have a large 17-inch touchscreen that will be horizontally mounted. It will be located on the center of the dashboard and is expected to be used for various car and cabin functions, as well as navigating the on-board infotainment system. We will update this section as more details on the Cybertruck's technologies are released.
SAFETY
The Cybertruck will be outfitted with the company's self-driving Autopilot system. They have also stated that they will release a Full Self-Driving option for the pickup, starting at a price of $7000. Various driver-assistance technologies, such as automatic emergency braking, is also expected to be available.
WARRANTY
Tesla does offer a decent warranty plan for its vehicles; however, they do not offer any plan for complimentary maintenance. The Limited warranty is covered for four years or the first 50,000 miles driven, whichever comes first. The Powertrain warranty is covered for eight years, regardless of the miles driven.