Nissan started off their showing at the 2022 Chicago Auto Show with the reveal of three customized 2022 Frontier trucks which were design by Nissan Design America.
As the brand's design team based in San Diego, California, they've been creating wild and striking modifications of Nissan's different products. The three trucks the team have released for the auto show are based off the 2022 Frontier. This trio of custom trucks aren't the only ones in show as the Rebelle Rally Frontier was also displayed alongside them. Fans will remember this as the truck driven by Team Wild Grace on their eight-day competition racing through the Nevada desert.
First of is the Project 72X which is a modernized take on the Datsun 720. First released in 1979, this pickup truck became on of the first vehicle brought over and assembled in the United States at the Smyrna Vehicle Assembly Plant. This truck was meant to be both affordable and fit for those outdoor-types looking for an adventure. The 2022 model gives it some gray tones on the exterior and some graphics to make it look cooler. Other additions included steel wheels, a sport bar, and a 2.5-inch lift kit.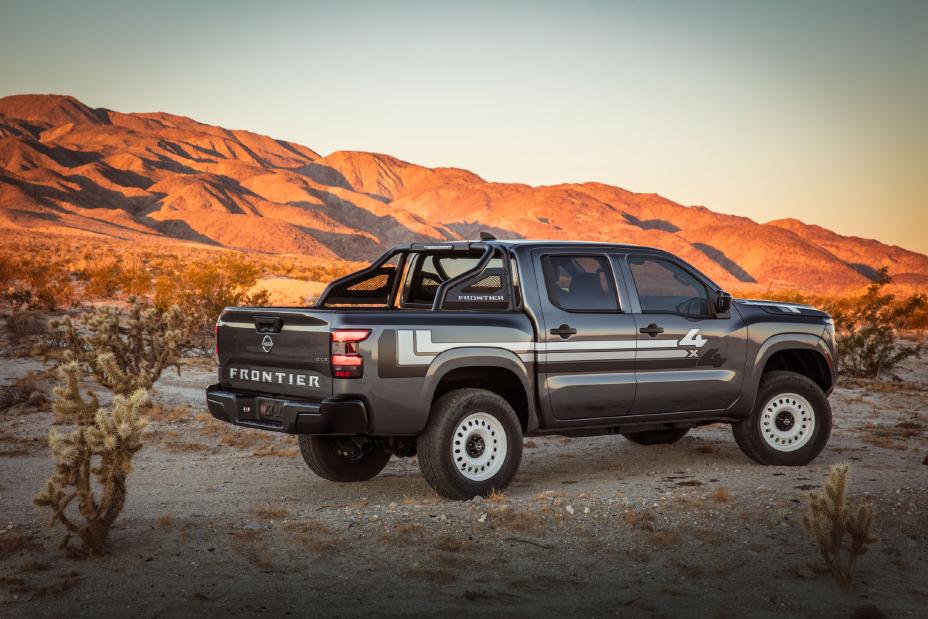 Next is what the team has called Project Hardbody, a callback to the D21 "Hardbody" truck. This was one of the first projects completed by the design team and is built on the frame of a 2022 Frontier Crew Cab SV 4X4. Additions to this truck include a set of classic block-style wheels, a 3-inch lift kit, a spare tire carrier mounted on the truck bed, and some door graphics that comes with retro shadow outlining elements.
Last of the trio of trucks customized by Nissan Design America is Project Adventure, a truck that takes advantage of the current trend of overlanding. This truck comes with features meant for rugged terrain such as a set of 34-inch mud terrain tired and a 5-inch lift kit. There's also a special carbon fiber snorkel that was custom-built by NDA themselves. One of the key design styles found on the Project Adventure truck is its special body wrap that depicts the entirety of the US.
The Rebelle Rally Frontier is the last of the quartet, being one of the competitors in 2021's all-women Rebelle Rally. Being the longest off-road rally to be held in the country, racers typically only use maps, compasses and roadbooks to navigate through the expanse of the Nevada Desert. Piloted by Sedona Blinson and Lyn Woodward, their version of the PRO-4X Rebelle Rally Racer came with NISMO Off Roading components such as Off-Road AXIS wheels and a performance suspension kit.
Nissan's customized trucks can be found at the 2022 Chicago Auto Show, running from Feb. 12 to Feb. 21.